Composting and certification
Carbiolice's aim: to make 47% of domestic waste compostable
A French citizen produces an average of 270 kg of residual household waste (RWH)* a year and uses about 70 kg of plastic. According to the latest data from ADEME, the French energy transition agency, sorting bio-waste would reduce the weight of household bins by 30%. Thanks to Carbiolice's innovation, this figure is as high as 47%**. ​
is the percentage of fermentable rubbish that would no longer end up in the bin and could serve a purpose thanks to bio-waste sorting and the use of compostable plastics with Evanesto® inside.
Thanks to Evanesto®, PLA-based plastics are 100% compostable in both household and industrial composters increasing the amount of bio waste sorted and facilitating composting.​
Source : ADEME – "Le mag" N°105 – May 2017
Source ADEME – "Modecomtm 2017 campagne nationale de caractérisation des déchets ménagers"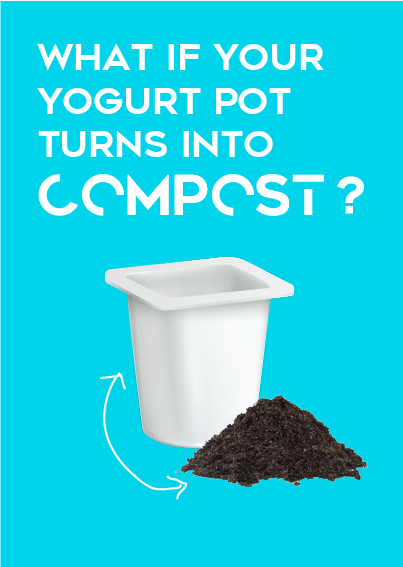 What does French law say? ​
According to French energy transition legislation dating from 2015, and EU Directive 2018/851 dated May 30, 2018, it will be compulsory to sort bio-waste by December 31, 2023.  Local authorities will have to provide households with a specific sorting solution. ​
Compostable plastics' end-of-life with Evanesto® inside
Home composting
Allows direct control of bio-waste end-of-life. Kitchen waste, garden waste and plastics with Evanesto® inside end up in the same compost bin and if the conditions are right, provide an effective natural fertilizer for your garden after 200 days.
Industrial composting
The bio-waste collected by towns and cities is taken to the nearest composting facilities. Industrial composting takes place at a constant high temperature, which accelerates biodegradation. Evanesto® speeds up the process, reducing the time it takes for compostable plastics to biodegrade.
Methanisation
Methanisation has many advantages, organic matter and produces energy. A methane facility such as Methelec in the Auvergne region of France produces about 9,500 Nm3 CH4/day and about 12,000 MWh/year of electricity.
Evanesto®'s benefits​
Evanesto® technology accelerates the biodegradation of PLA-based compostable plastics. It is an enzyme additive that breaks down plastic of natural origin so that it can be quickly assimilated by the microorganisms present in the compost. In just 200 days, bioplastics become an integral part of your compost with no residues and zero toxicity. ​ Composting : Multiple benefits
Social
Create social link and share knowledge about compost and educate about compost and waste management 1064: It is the number of collective gardens around Paris, on about 900ha *Source : IAU Ile de France
Agricultural
Compensate the lack of lands in resources Reduce the use of hazardous products for lands According to the Fnade, avoiding the use of pesticides on 5% of the agricultural land would save 250 billions €, with an extra save of 50-350€ per hectare due to irrigation *Source : Fnade
Environmental
Promote the use of local solutions : 113 km: It is the distance traveled to incinerate the wastes of the city of Amiens. Since compost is a local solution, there are fewer CO2 emissions to treat the wastes. *Source : France Incinération
Economic
Create more responsible business models Create jobs and save money : For 10,000 tonnes of waste per year, composting makes it possible to quadruple the number of jobs created compared to the incineration industry. Source: Institute for Local Self-Reliance
Consumers behaviors
Move forward to a use-centric economy Combine local and circular economy : Less: CO2 emissions and dependency to toxic products / More: earnings due to compost and land health
New consomption patterns
Provide an environment-friendly end-of-life for products Reduce the quantity of wastes and optimize sorting : In Lorient, separated collection and composting of biowastes helps collecting 8 000t of wastes, creating 3 700t of compost per year, with a low rate of error in sorting (1 to 5% of weight) *Source : Annual Report 2017 Lorient agglomeration
Does your company wish to develop compostable and environmentally friendly packaging?
For more information
Regulations and certifications of compostable plastics
As a packaging or a single-use article more respectful of the environment can mix both human activity and ecology, many international organisations (Countries, states, industries, research centers, certifications labs…) work to develop and use new materials, including biodegradable and composable polymers..
In each country, regulations are set up to stop the use of conventional single-use plastics. They materialize as norms and labels found on items that guarantee their conformity with them.
Compostable in domestic conditions
Compostable in industrial conditions
Biodegradable soil
Norms
France : NF T51-800 « plastiques »
Australia : AS 5810 « plastics »
Applications regulated 
France : Single use plastic bags / Technical film
EU : Single use kitchen utensils (2020)
Norms
France : NF EN 13432 « emballage  » / NF EN 14995 « matières plastiques »
USA : ATSM D6400 « Plastics and products made from plastics »
Australia : AS 4736 « plastics »
Applications regulated
Italy : Single use plastic bags
Several states of the USA (ex. California) : Single use plastic bags
Norms
France : NF US2-001 « matériaux biodégradables pour l'agriculture et l'horticulture »
NF EN 17033 « films de paillage »
USA : ATSM D6400 « plastics materials »