Circular economy is the new plastic economy
Moving on from a resource-wasting economy…
Product lifecycle from raw material to waste management.
This is a limited cycle, with no possible reproduction.
Extract
Produce
Throw away
2020
85 Bn tons
of raw material
used to support world global production
* Source: Ellen Mac Arthur Fondation
95% of plastic packaging economic value
is lost after use
= 80 to 120 bn$/year
* Source: Ellen Mac Arthur Fondation
Every year,
8 million tons of plastic
are thrown into the oceans*
* Source: Ellen Mac Arthur Fondation
At this pace, in 2050,
there will be as much plastic
as fishes into the oceans*
* Source: Ellen Mac Arthur Fondation
… to a value-creating one
Unlimited cycle with raw material regeneration
Sugar cane or corn harvest provide starch, basic ingredient for biobased and biodegradable products
Biobased and biodegradable materials are then used for multiple applications : bags, diposable tableware, cups…
Once used, the product goes to compost where biodegradation process will occur, thanks to enzymes and microorganisms activity
Compost is in the end used as a plant fertilizer, supplying lands in nutriments and mineral elements, improving its quality and health
Multiple benefits
Environmental
• Lower products CO2 emissions during their end-of-life process
Economic
• Sale of compost
• Reuse of resources helps decreasing the loss of value of products
Social
• Mindful consumption pattern
• Enhanced use of ressources and raw materials
And more…
Universal solution: everyone can adopt circular economy principles and heighten its benefits.
Why incorporating plastics into the circular economy?
Less plastic pollution
(about 8M T / year of plastics end up in the oceans)
More value created through plastics end-of-life, which limits:
• the loss of economic value of products
• the emissions of harmful products
• the use of non-renewable resources and the fossil fuels dependence
Bioplastics and PLA
What are we talking about?
Bioplastics
Bioplastics are polymers that can either replace conventional plastics, such as PP and PE, or have a new structure, such as PLA.
Such materials can be biodegradable or not, and they have a variable part of biobased content.
PLA
Biobased polymer which replaces petroleum based plastics (PP/PE/PS…) without entering in
competition with food supply industry.
Discover the different types of bioplastics
Bioplastics matrix
Bioplastics, an effective answer to waste management issues
Even plastics difficultly recyclable can have an eco-responsible end-of-life, creator of economic and environmental value
If we replace resources-consuming conventional plastics by biobased alternatives, we drastically reduce their impact on the environment.
Integrating such plastics into biowastes provides a local, universal solution to waste management issues.
Moreover, bioplastics ending into composting facilities allow to close the carbon loop of plastics, thanks to compost by-products (CO2 emitted during bioplastic production goes back to Earth with compost)
Combined with separate collection of biowastes, extra 20 to 30% of our bins content can be valued during end-of-life processes, giving a total of 50% of our domestic bins.
In the end, we are able to create a virtuous circle around plastic products' lifecycle, and accompanying people in their willingness to change the way they consume plastic in their everyday life.
Compost, regulations and certifications
Compost in practice
Home composting
That's the compost made at home. Biowastes, such as fruits and vegetables peelings or eggshells, reduce the quantity of incinerated wastes.
Duration : around 6 months
Industrial composting
It is an industrial facility which composts individuals and professionals' wastes. More wastes are valued in such installations.
Duration: around 3 months
Methanization
Methanization provides a double valuation of wastes: treating industrial or farmers wastes, it creates compost and biogas.
Duration: around 6 weeks
Multiple benefits
Social
Create social link and share knowledge about compost
Educate about compost and waste management
1064: It is the number of collective gardens around Paris, on about 900ha *Source : IAU Ile de France
Agricultural
Compensate the lack of lands in resources
Reduce the use of hazardous products for lands
According to the Fnade, avoiding the use of pesticides on 5% of the agricultural land would save 250 billions €, with an extra save of 50-350€ per hectare due to irrigation *Source : Fnade
Environnemental
Promote the use of local solutions
113 kms: It is the distance travelled to incinerate the wastes of the city of Amiens *Source : France Incinération
Reduce CO2 emissions and methane pollution
The landfilling of waste is no longer systematic and avoids a high level of methane pollution. In addition, since compost is a local solution, there are fewer CO2 emissions to treat the wastes.
Economic
Create jobs and save money
21M€: It is the annual economy that could be made if baby diapers were composted instead of incinerated in France *Source : Le Figaro 01/2019
Create more responsible business models
Consumers behaviors
Combine local and circular economy
Less: CO2 emissions and dependancy to toxic products / More: earnings due to compost and land health
Move forward to a use-centric economy
New consomption patterns
Provide an environment-friendly end-of-life for products
Reduce the quantity of wastes and optimize sorting
In Lorient, separated collection and composting of biowastes helps collecting 8 000t of wastes, creating 3 700t of compost per year, with a low rate of error in sorting (1 to 5% of weight) *Source : Annual Report 2017 Lorient agglomeration
Standards and regulations
As a packaging or a single-use article more respectful of the environment can mix both human activity and ecology, many international organisations (Countries, states, industries, research centers, certifications labs…) work to develop and use new materials, including biodegradable and composable polymers.
In each country, regulations are set up to stop the use of conventional single-use plastics. They materialize as norms and labels found on items that guarantee their conformity with them.
In France, for example, as part of the law on energy transition (Loi de Transition Energétique pour la Croissance Verte), single use bags are labelled for compostability.

The main certifications
COMPOSTABLE IN HOME SITUATIONS compliant with the French standard NF T51-800. Due to the relatively limited volume of waste present in your garden's compost pile, the temperature is much lower and less constant than in an industrial composting environment. This is the reason why garden composting is a slower process.
COMPOSTABLE IN INDUSTRIAL SITUATIONS compliant with the European standard EN 13432 and granted the OK compost label, which guarantees that the product will decompose and be completely assimilated in less than twelve weeks without any toxic risk for the environment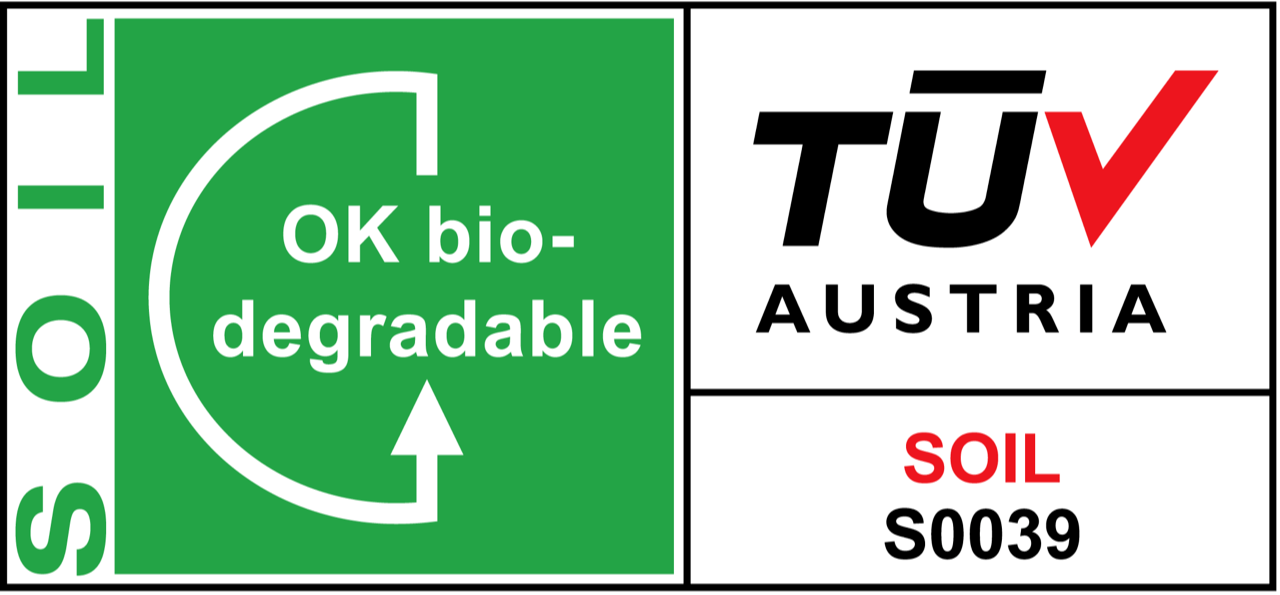 BIODEGRADABLE IN THE SOIL Biodegradability in the soil provides high added value for agricultural and horticultural products: they can biodegrade and be assimilated in place after use, avoiding the need to collect products that are very dirty and generally unsuitable for recycling. The OK biodegradable SOIL label guarantees that the product is completely biodegradable and can be assimilated by soil micro-organisms without any negative effects on the environment.
Now that you know our environment and our challenges, do not hesitate to discover who we are and our solution Evanesto®!