22.08.2020
The french and the plastics
Between environmental awareness, early signs of individual consumer commitment, food safety issues and high expectations placed on industry stakeholders, how do the French see plastic in 2020?
Plastic production in France
France has one of the highest consumptions of plastic in Europe: 4.8 million tonnes of plastic are produced per year*, the equivalent of 70 kg per inhabitant. Plastic packaging alone accounts for 45% of this amount.
Because only 4% of plastic packaging (apart from plastic bottles) is currently recycled in France, non-recycled plastic packaging makes up nearly 60% of the 3.5 million tonnes of plastic waste generated each year**.
In the time it takes you to read this article,
over 150,000 kg of plastic will have been discarded in the countryside…
In 2016, France banned the single-use plastic bags distributed at supermarket check-outs. In 2020, it banned single-use plastic cups and plates (under Article L541-10-5 of the French Environment Code), followed a little later that year by plastic drinking straws, cutlery and meal trays, etc. (Agriculture and Food Act). At the same time, the Citizens' Climate Convention proposed, last June, to cut down on outer packaging and protective wrapping and the use of single-use plastic. Accordingly, we  have examined French people's perception of plastic (through an OpinionWay survey for Carbiolice).***
Survey conducted from 4 to 5 March 2020 on a sample of 1,106 people representative of the French population aged 18 and over. The sample was compiled using the quota method, based on the criteria of age, gender, social and occupational group, and the category of the town and region of residence.
Plastic is the main cause of damage to nature, according to the French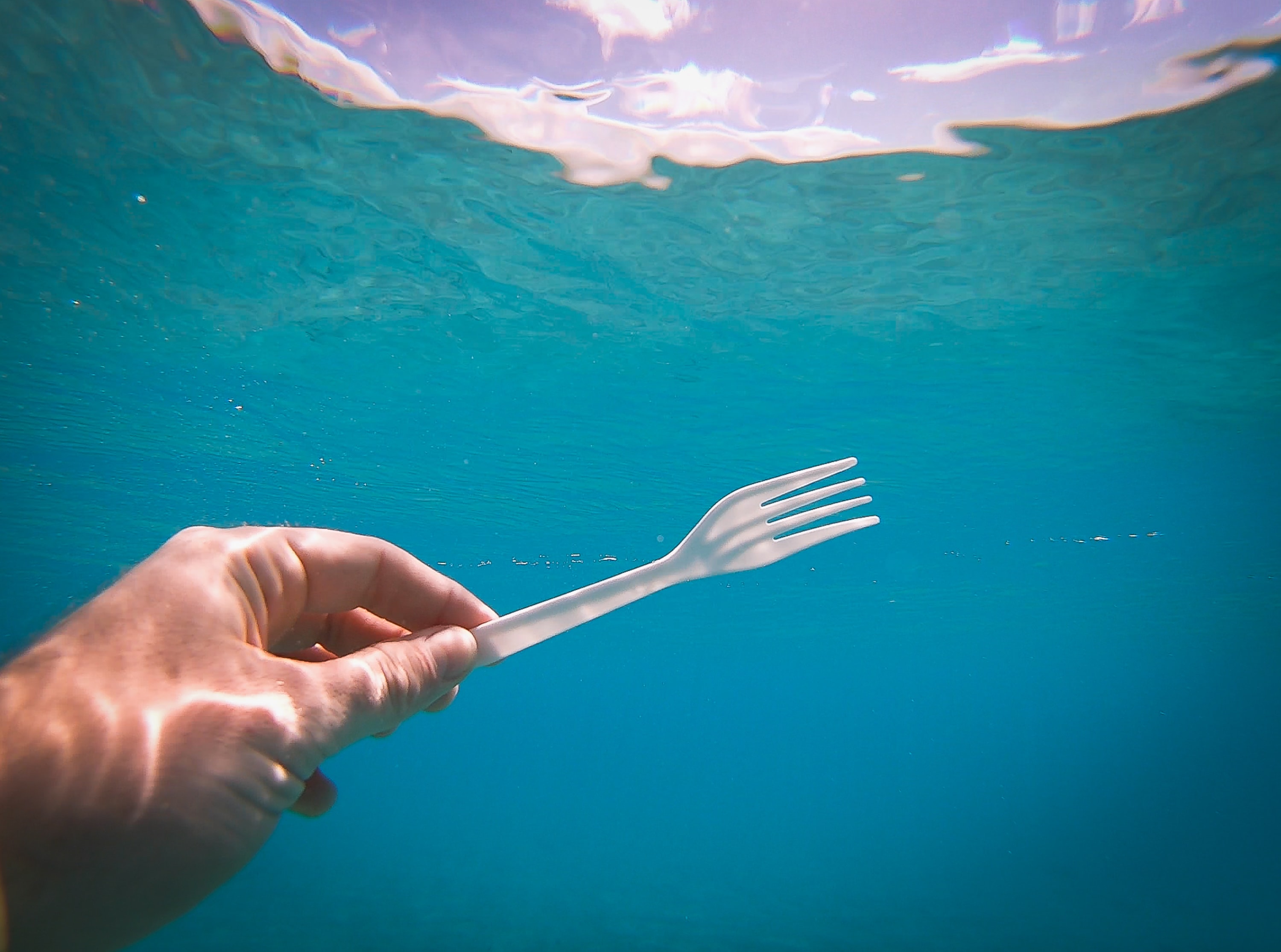 According to the survey findings, 35% of French people believe that plastic waste does most damage to nature, followed by fly-tipping (26%), the use of pesticides (20%), impermeable ground coverings (14%) and abandoned car wrecks (4%).
89% of French people say they are concerned
about plastic pollution.
But plastic is still difficult to replace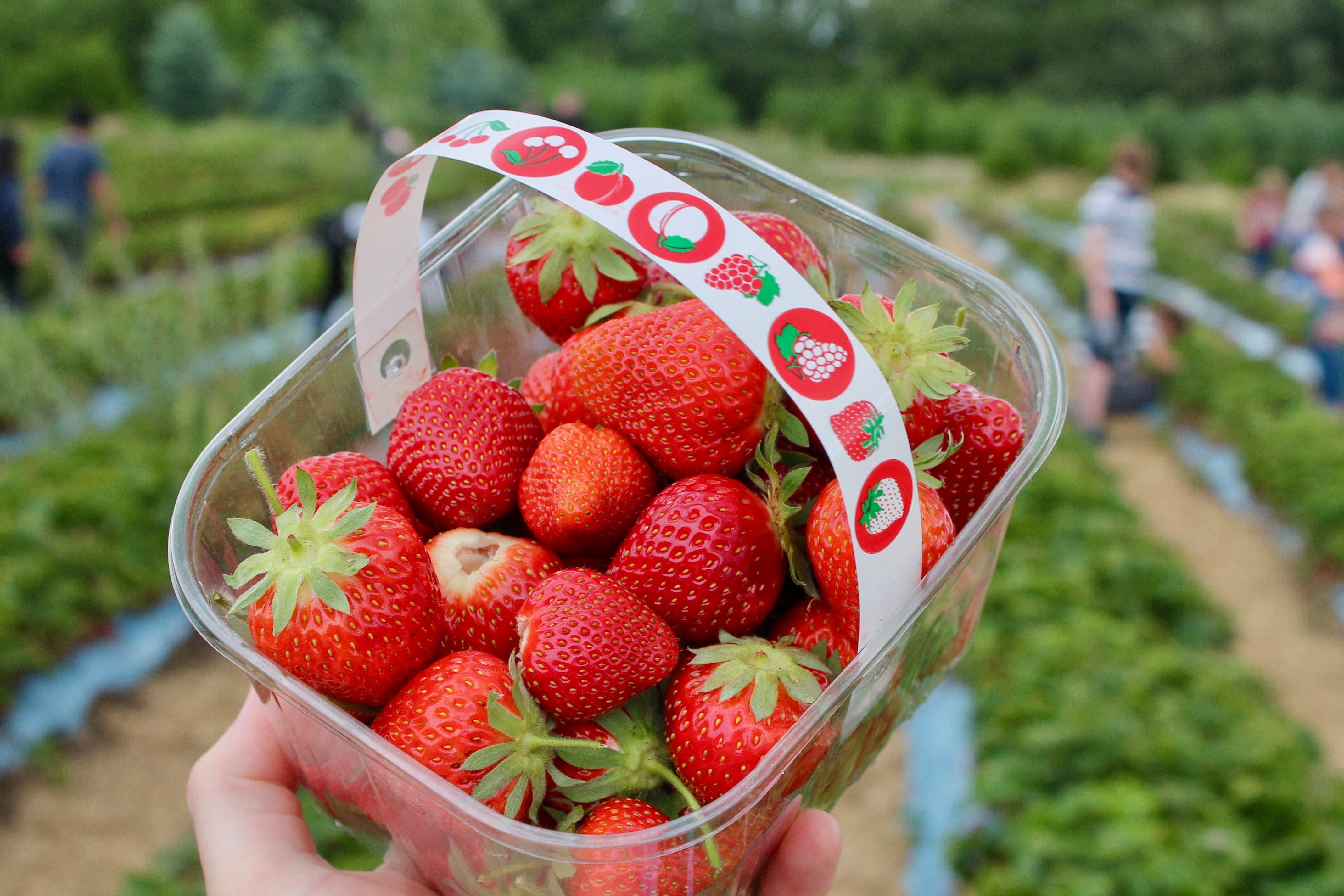 While 60% of French people want to eliminate outer packaging and protective wrapping, they nevertheless think that plastic plays an essential role, because 44% of them choose packaged products when they shop, even when there is also a choice of bulk products.****
The Covid-19 epidemic has reinforced this tendency: six out of every 10 French people think that packaging is extremely or very useful, according to the latest IFOP survey.***** The study shows that, while one-third of French people regularly preferred products with less packaging before the Covid-19 crisis, 40% of them have been buying more packaged products since the epidemic.
Plastic's qualities make it a light and effective form of protection that limits contamination and reduces food wastage. The Citizens' Climate Convention also agrees that:
"Packaging is still necessary in many cases to guarantee safety or maintain product quality".******
So what can be done to combat plastic pollution?
1- Raise awarness among the various user groups and limit the use of plastic
84% of French people think that one of the most effective ways of tackling the problem of plastic waste would be to encourage big brands to limit the use of plastic. 83% think that more should be done to raise awareness among businesses, 78% among consumers.
Also, French people are already prepared to change their shopping habits: 69% say they are gradually cutting down on their consumption of plastic; 34% say they have considerably reduced it.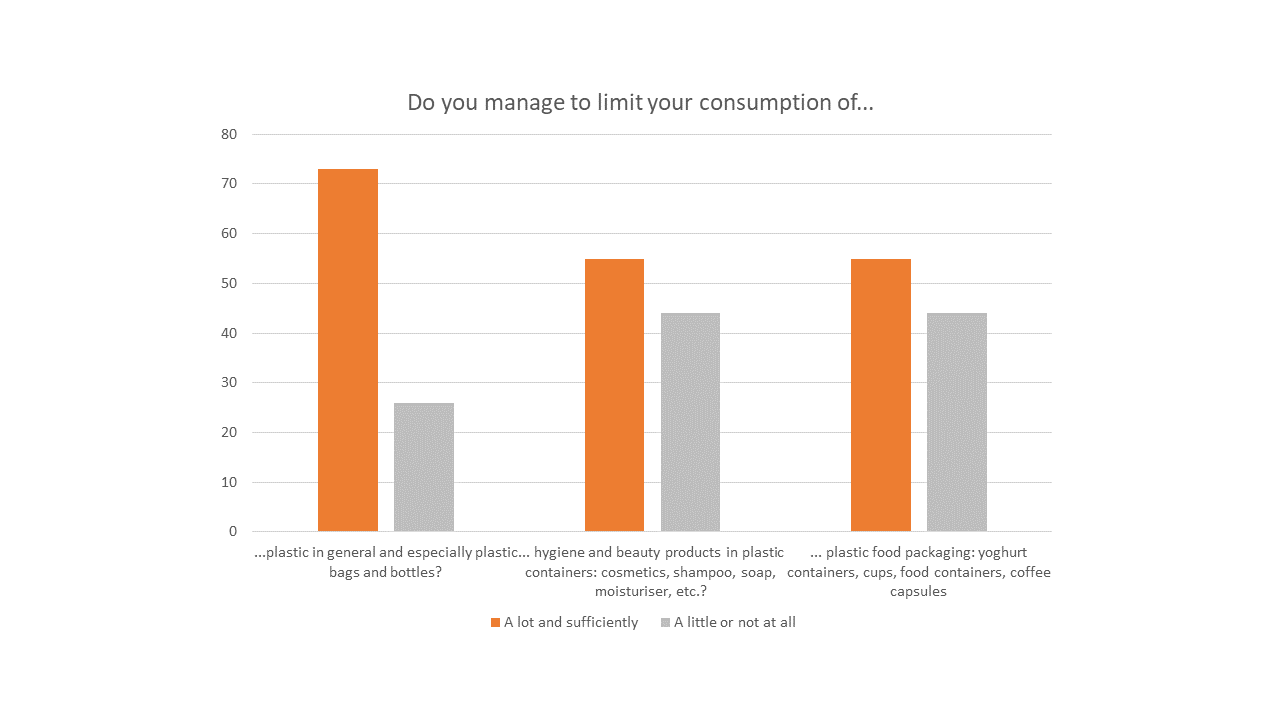 20% don't know yet what they can do to limit plastics on an everyday basis…
2- Enlist the support of industry stakeholders
According to the latest IFOP survey*****, only 5% of French people think that industrial companies are making an effort to design sustainable packaging, and 61% want them to do more towards designing sustainable packaging.
Even if 76% of French people would like their town or municipality to provide support for more effectively handling plastic waste, they believe the main stakeholders in the waste reduction issue are still agri-food brands and industrial companies, followed by packaging manufacturers.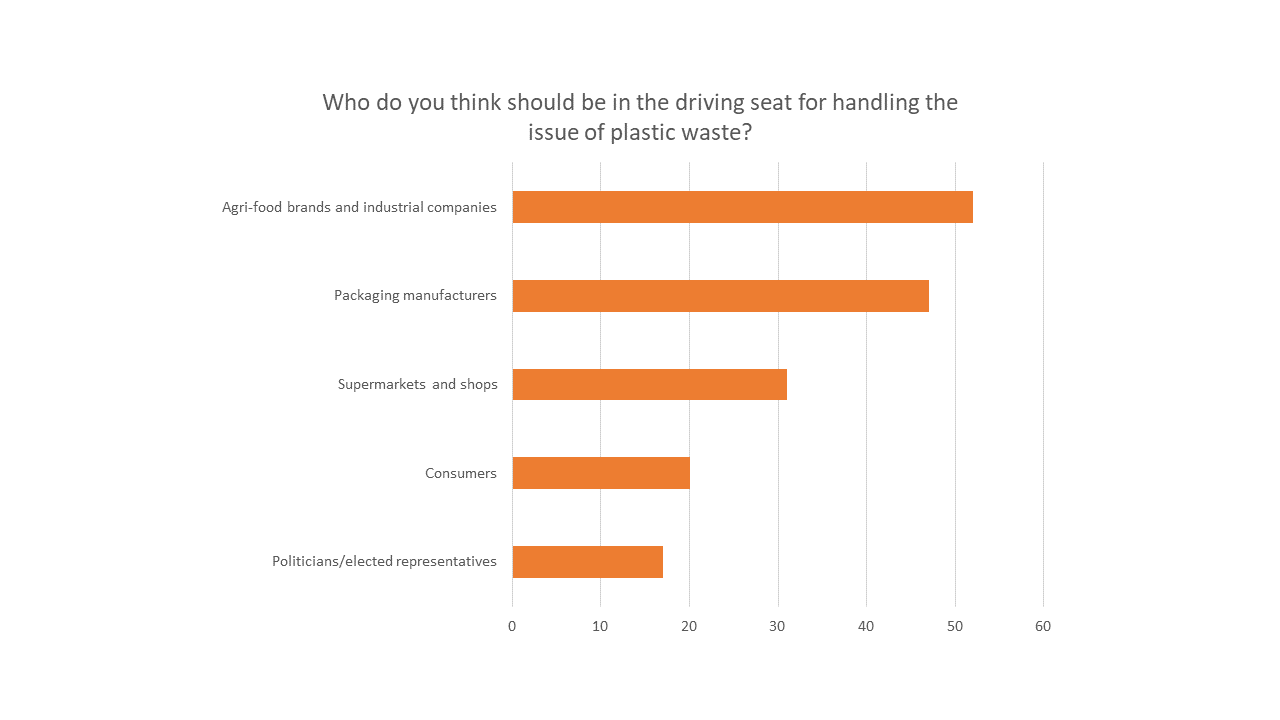 3- Innovate to combat plastic pollution

Given the sheer quantity of plastic waste produced, French people can see a number of solutions:
Real interest in compostable plastic
Compostable plastic is the alternative that was also suggested by the Citizens Climate Convention: "To change practices and enable economic stakeholders to make the transition without any destruction of jobs, we recommend setting up mechanisms that promote the use of bio-sourced materials that are composable or even, ultimately, fully biodegradable".******
Did you know : compostable plastic solutions already exist 
By speeding up the biodegradation of compostable, PLA-based plastics, the Evanesto® technology makes it possible to break down not only apple peel and coffee grounds but also plastic cups, yoghurt containers, food containers, capsules and plastic films, and convert them in less than 200 days directly in your composter with zero residue and zero toxicity.
French people and compostable plastic 
86% of French people say that an innovation that would make plastic fully compostable would be an effective way to tackle the problem of plastic waste.
And they feel ready for it! 95% of those polled are familiar with composting, 79% say they already compost waste or would like to do so.
Even so, it is still important to do more to communicate and inform about the subject: 28% of respondents say they don't feel very well-informed about composting. The issue is closely linked to the lack of clear instructions about waste sorting in general, also pin-pointed by a 2019 survey on the population's waste-sorting habits: ¾ of French people are still uncertain about how to sort certain types of packaging.*******
To learn more about how to sort waste and read tips about composting, follow us on the Carbiolice Instagram!
*Plastics, the fact 2019 (PlasticsEurope)
**Atlas du plastique 2020, FPC
***OpinionWay Survey for Carbiolice conducted from 4 to 5 March 2020 on a sample of 1,106 people representative of the French population aged 18 and over. The sample was compiled using the quota method, based on the criteria of age, gender, social and occupational group, and the category of the town and region of residence.
****Survey conducted by Smurfit Kappa, Europe's leading producer of paper-based packaging, January 2020
*****https://www.agro-media.fr/dossier/61-des-francais-demandent-aux-industriels-davantage-deffort-dans-la-conception-demballages-durables-42839.html
******Citizens' Climate Convention, June 2020
*******Observatoire du geste de tri 2019, Ipsos, sur un échantillon de 3 250 French people.
These articles may interest you
It takes 1 second to make a plastic bag that is used for 20 minutes on average before being thrown away. It then takes 1,000 years for the bag to decompose if it's discarded in the environment. Because time is running out for our planet, here are 4 great solutions to fight plastic pollution now!
PLA is 100% bisourced and biodegradable, one of the first renewable polymers to compete with traditional polymers in terms of performance and environmental impact! Because it emits three times less C02 emissions and is already on the market, PLA could very well reconcile plastic with the planet. Here's everything you need to know about this bioplastic.
Who said that the shoemakers' wives go barefoot and doctors' wives die young?
Carbiolice has 25 employees, and if professionally we are experts in biodegradation, personally we are also experienced composters! Discover the testimonies of Juliette, Laurent, Clémentine, Adeline, Chloé and Ludivine, all employees of Carbiolice, who agreed to be interviewed during this national week of composting!