08.12.2020
Testimonial: I live in a flat but that doesn't stop me composting!
Who says that you have to live in the country and have a garden to be able to compost? Johan, Jean-Baptiste and Marie-Pierre are keen composters. Yet they live in flats, and even in big cities. How do they go about it? Why did they get started? Find out what they have to say!
Compost and biowaste management in France
Biowaste (food scraps) represent 30 to 40% of our RHW (Residual Household Waste). This organic matter is supposed to return to the soil to fertilize and preserve it: composting biowaste contributes to protecting and regenerating soil allowing it to store carbon to compensate for greenhouse gas emissions.
But when biowaste gets mixed up with other types of waste (in a normal rubbish bin for example), it is either incinerated or sent to landfill even though European soil has become depleted in the last few decades.
France is rather lagging behind when it comes to biowaste management – only around 21% is collected – but in Italy the figure is as high as 47% and the biowaste collected only comes from 60% of the Italian population!
Some households in France do use a home composter. And the idea is catching on, even with city dwellers! Johan, Jean-Baptiste and Marie-Pierre share their views on the subject of composting in an apartment.
Johan : composting with a vermicomposter
He has been composting for three years. His was motivated to install a composter on his balcony by "seeing that food waste ends up in the bin, when it would be useful back in the soil."
Johan describes himself as a townie in the countryside as he lives in the centre of the old village of Sisteron. He opted to install a vermicomposter on his balcony. He puts all his raw green kitchen waste and eggs shells in it.
As for the cost and time involved, the investment is "negligible": three containers and a lid costing about forty euros and:  "one trip down to the cellar when the container is full (once a week), emptying the liquid container (about once every three months) and emptying out the finished compost into the earth (once every six months or so)." It's only a minor investment when you see the final result. "I empty it into the planters on the balcony which makes the earth very fertile; the results are impressive."
Jean-Baptiste : a composter in his basement
He has been a fan of composting for over twenty years now, he started when he was living in a house with his parents and kept up the good work in his flat where he has been living for the past ten years.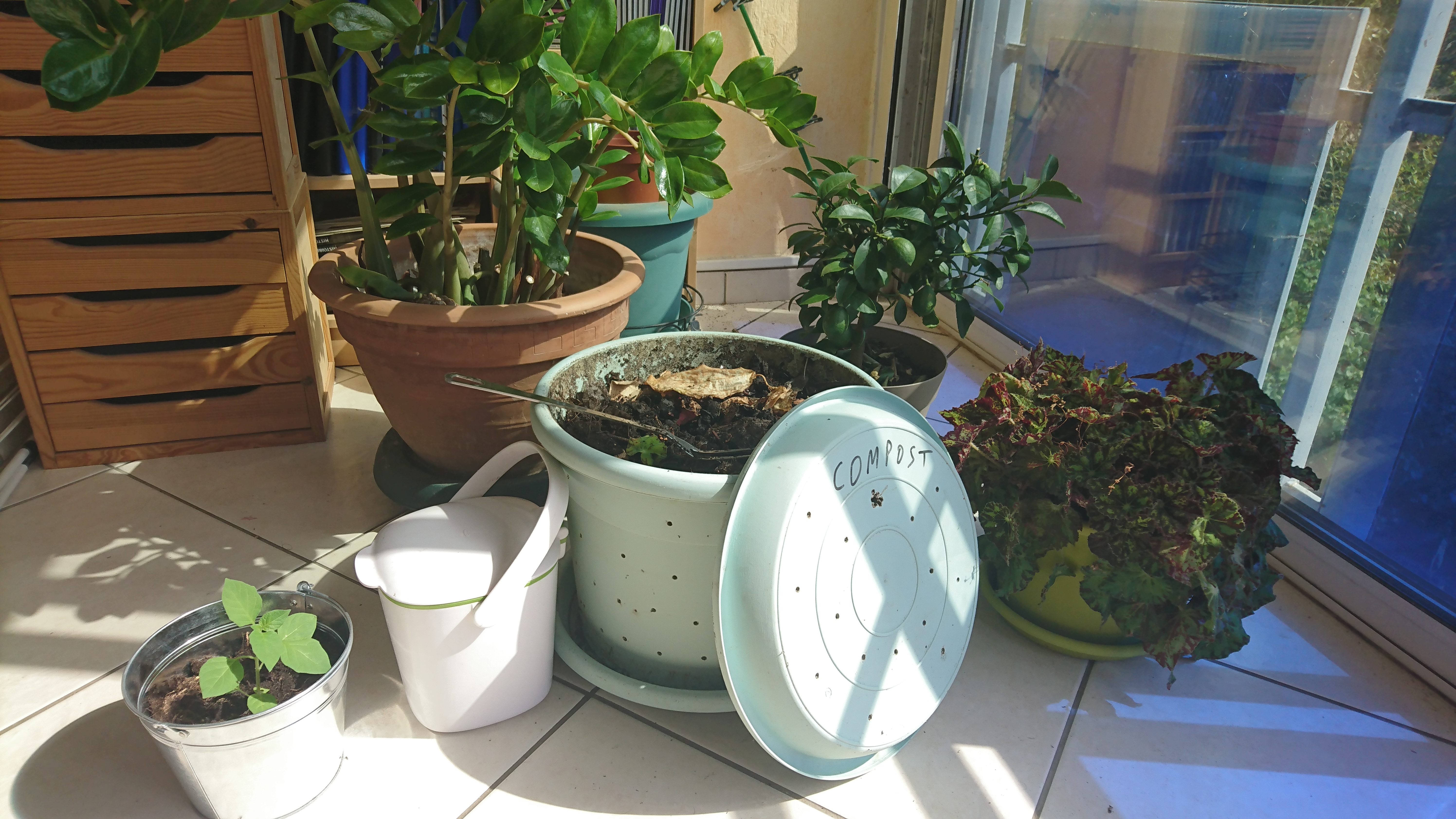 Jean-Baptiste's installation
Why were you so keen to continue composting even though you didn't have your own garden? Jean-Baptiste loves gardening, so compost is a useful resource that he can continue producing himself at home. He was also motivated by the importance of reducing waste even if he encountered a few difficulties at the outset: "I wanted to place a composter in an area of our apartment building out of view but the residents refused because they were worried about the smell. So, I had to install it in my flat. To start out with, it smelt a bit as I only put food waste in, but once I started adding dry matter and aerating it once a week, the problem was soon sorted."
So, he has installed a plastic composter in his basement with a tray to collect the compost tea. He composts "soil with food waste (fruit, vegetables, egg shells, pistachio and walnut shells)" as well as "plant waste, bamboo ear buds, compostable packaging, dust, paper with no ink, nails and hair" to which he adds "some earthworms and fruit flies."
He reckons that it is not too much bother: "five minutes at the weekend to empty my bin and aerate, three seconds to pop waste in the kitchen bin when I'm cooking." Once every two months, you need to empty part of the composter which takes about ten minutes. The rest is mother nature's job!" It is the best of both worlds: less waste and free soil for the plants and bushes and the hedges around the building.
Marie-Pierre : composting in a parisian apartment
This parisian is the least experienced of the three when it comes to composting but certainly not the least enthusiastic.
Even if she lives in a flat in Paris, she has been using a composter for a year now with the firm intention of generating less waste. "I have a small bin which the local council gave us and I empty it once a week into the biowaste bin of the building. This bin is only collected once a week."
But she had to convince the other residents of her building to buy into the project. "The caretaker of our building did not want to accept the food waste bin provided by the council. He said that it would attract rodents and smell. I asked for this bin to be made available at two annual general meetings. In the end, we set up a residents committee. We sent out a questionnaire to all the residents. Lots of people replied that they were in favour of composting and so the biowaste bin is now put out once a week. It is put out on the morning of dustbin collection day and in the evening the caretaker washes it and locks it away. The rest of the time, we keep this waste in our flat or on our balcony."
Marie-Pierre managed to convince the others, but it was certainly because she strongly believed in it herself. "Before we got the bin, I took my compost to the biowaste bin at Aligre market." Even if she does not benefit from the mature compost herself as – "it's Paris council which uses it" – there is another advantage: "I produce less waste and pollute less, which is important for the planet."
At the end of 2023, it will be compulsory to separate biowaste under EU regulations.
What do our keen composters think about this?
Jean-Baptiste would like to see "composters in every apartment building, on every housing estate, in every park, urban district, large firm, school or hospital." Johan could not agree more. He is lobbying for public composters in the waste sorting stations in the street. For Marie-Pierre, the priority is to raise the awareness of users. Jean-Baptiste adds: "I would like to see a "zero waste" lifestyle become more common and for children to learn about and practice composting and waste sorting every day at school. For that reason, I started a composting petition on change.org so it can happen as soon as possible. You must give back to the earth what comes from the earth. At the end of the day, it's a simple task which millions of people have been performing for at least four or five centuries."
Did you

know? Compostable plastics
People in France produce an average of 270 kg of residual household waste (RHW)* a year and use about 70 kg of plastic. According to recent data from ADEME, the French Environment and Energy Management Agency, separating biowaste at source would reduce the weight of rubbish bins by 30%. Thanks to Carbiolice's innovation, this figure could be increased to 47% if compostable plastics containing Evanesto® were also included.
Composting : Why don't you give it a go?
Check out our five good reasons for composting!
If you are still hesitant, you will be convinced it is the right thing to do if you listen to what Johan and Jean-Baptiste have to say:
Go for it! It's really easy and it's win-win: fewer bins to throw out and the waste is recycled." enthuses Johan.
"Today, if individuals want to do their bit for ecology, they need to dramatically reduce the amount of waste they produce which automatically means composting biowaste. In etymological terms, the word eco-logy means a fair balance. For example, a plant produces CO2 in the night which is converted into oxygen during the day which balances out for the environment.
But, with our current lifestyles, just one person can generate about 500 kg of waste a year – multiplied billions of times. We cannot incinerate all this waste (…). I don't want to be a doomsayer, but we need to act now by doing simple things like composting our waste. A city with a population of 10,000 can reduce its waste by 10 to 20 tonnes a year." explains Jean-Baptiste
Thanks to Johan, Jean-Baptiste and Marie-Pierre for agreeing to share their views on the subject.
These articles may interest you
It takes 1 second to make a plastic bag that is used for 20 minutes on average before being thrown away. It then takes 1,000 years for the bag to decompose if it's discarded in the environment. Because time is running out for our planet, here are 4 great solutions to fight plastic pollution now!
PLA is 100% bisourced and biodegradable, one of the first renewable polymers to compete with traditional polymers in terms of performance and environmental impact! Because it emits three times less C02 emissions and is already on the market, PLA could very well reconcile plastic with the planet. Here's everything you need to know about this bioplastic.
Who said that the shoemakers' wives go barefoot and doctors' wives die young?
Carbiolice has 25 employees, and if professionally we are experts in biodegradation, personally we are also experienced composters! Discover the testimonies of Juliette, Laurent, Clémentine, Adeline, Chloé and Ludivine, all employees of Carbiolice, who agreed to be interviewed during this national week of composting!